WIX Fulfilment
WIX is one of the top user-friendly website builders out there and is favoured for its easy-to-use system. WIX allows brands to create online stores with hundreds of ready to use templates to choose from. Our warehouse management system supports WIX integration, allowing you to manage your inventory, orders, returns, billing and more all from one dashboard.
By continuing to develop our Warehouse Management System (WMS) we can offer our partners integrations with new marketplaces, allowing our brand partners to grow and scale their business with automated and efficient processes. Helping connect our customers with new marketplaces at the click of a button.
If you primarily use WIX for your eCommerce brand, then you know that order fulfilment can be a huge challenge. Not only do you have to worry about packing and shipping orders, but you also need to find a warehouse that can store your products and ship them out when orders come in. This can be expensive and time-consuming, and it's often difficult to find a third-party logistics (3PL) partner that can meet all your needs. That's why we have developed our system to be flexible and meet the needs of eCommerce retailers of all sizes.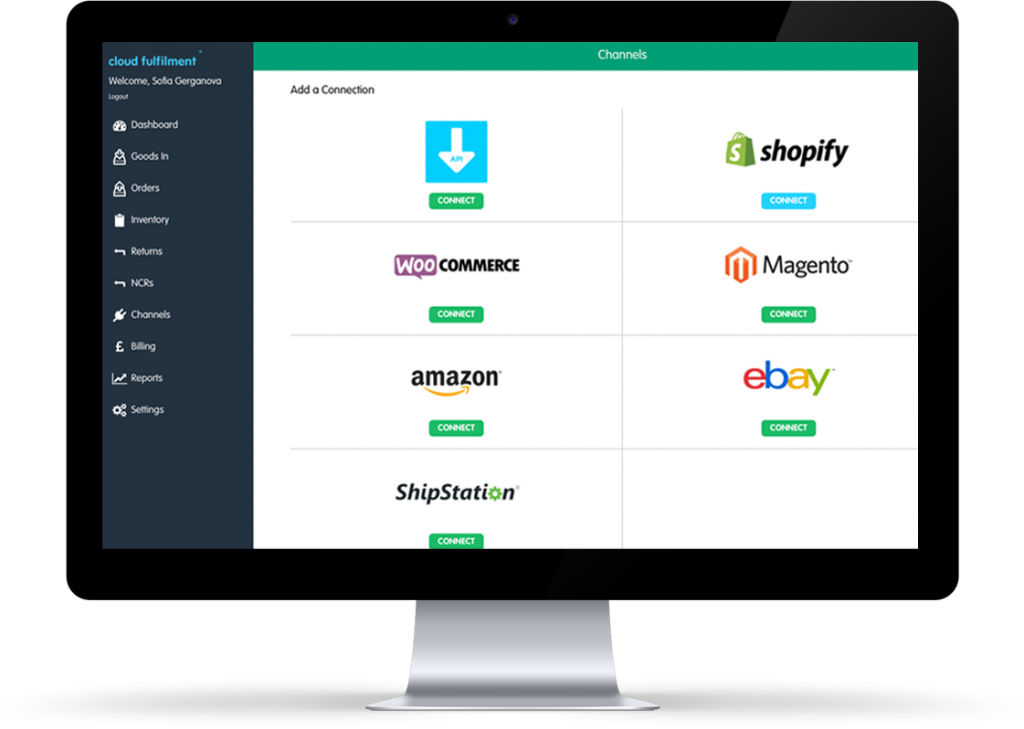 What does our WIX integration do?
There are multiple options when it comes to fulfilment with WIX, like in-house fulfilment where you store, pick, pack and despatch the products yourself with the help of your own in house team. Or dropshipping which can work but you have to rely on third-party retailers who handle packing and shipping. Many take advantage of a third-party logistics centre that will offer scalable fulfilment solutions, who also work in partnership with you to support the growth of your brand into new markets.
Cloud Fulfilment is a third-party logistics provider that will automate the whole process for you, when an order is placed on WIX, Cloud will pick, pack, and dispatch the order to the customer while also offering competitive shipping rates.
Adding the WIX integration to the Cloud Warehouse Management System (WMS), allows you to control and maintain your WIX store and other marketplace orders all from one central location. When you decide to outsource your fulfilment operations to a third-party like Cloud Fulfilment, your WIX store will speak directly to our proprietary WMS, enabling a fully automated pick, pack and despatch process that will take your WIX store to the next level.
Here are just a few of the things our WIX integration does:
Provides accurate stock levels directly to WIX
Automatically downloads orders
Update shipping status
Provide order tracking and carrier information
What are the benefits of our WIX fulfilment service?
Say goodbye to manual filling in of tracking information for each order or picking and packing is an undeniable benefit of outsourcing your fulfilment, but here are more great benefits of our WIX fulfilment service:
Affordability – 3PL's can offer competitive rates on shipping as they have negotiated rates with shipping carriers that are much lower than what you would pay on your own.
Warehousing – When you use an eCommerce fulfilment provider, you don't have to worry about where to store your products. Along with order fulfilment, 3PL's have warehouses that are specifically designed for storing and shipping eCommerce orders.
Improved efficiency– Reduce human error and save time by automating the order fulfilment process. Once connected to our fulfilment centre, you will have end to end automation, improving operational efficiency and customer satisfaction.
Order accuracy – Your WIX store will feed directly into our WMS which instructs our operatives on the warehouse floor. Each step of the process stock is scanned to track unit picked, location visited and each product dispatched to ensure pinpoint accuracy.
Multi-platform integration – Do you use more than one channel to sell your products? No problem, our purpose-built platform integrations with all the top channels and marketplaces, so we're ideally placed to support your multi-channel sales. You can even have more than one WIX store connected to your account.
How to get started
Setting up the WIX integration with Cloud Fulfilment is easy with the help of our integration team. The process is simple, firstly you will add our app to your WIX website account, and from there our integration team will do the rest. If you would like more information about how it works, please get in touch, we'd be happy to help.