Amazon Fulfilment
Amazon is fast becoming the go to platform for eCommerce businesses, making it easy for sellers to start selling with no subscription fees. A key feature of Amazon's platform is their fulfilment options which are Fulfilled by Amazon (FBA) and Fulfilled by Merchant (FBM). These options allow sellers to have control over their inventory and choose the right fulfilment option for their brand.
Our advanced Warehouse Management System (WMS) now offers full integration with Amazon, both automatically fulfilling FBM orders as and when they come through and fulfilling bulk FBA orders to restock inventory at your Amazon warehouses.
By offering these new integrations we can work with our brand partners to grow and scale their business with automated and efficient processes. Helping connect our customers with new marketplaces at the click of a button.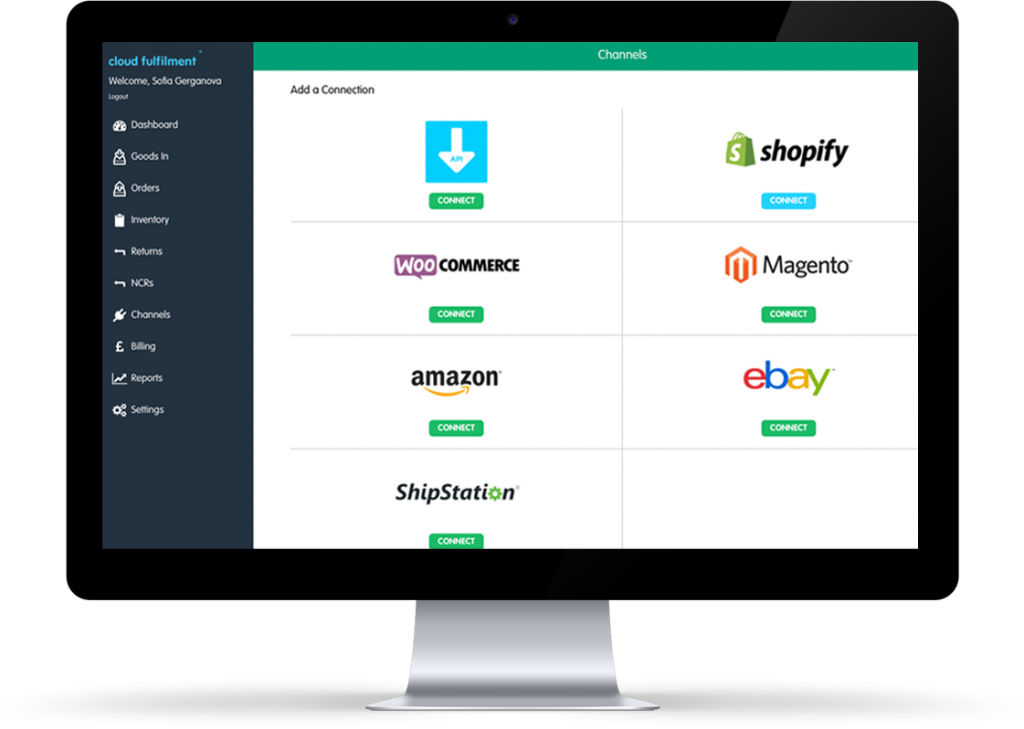 What does our Amazon integration do?
When you decide to outsource your fulfilment operations to a third-party like Cloud Fulfilment, our Amazon integration will allow your Amazon store to speak directly to our proprietary Warehouse Management System (WMS), enabling a fully automated pick, pack and despatch process that will take your FBM orders to the next level of automation.
This works the same way for FBA orders. When you approve a restock order from Amazon FBA, your bulk order will automatically go through to our Warehouse Management System (WMS) allowing your order to be fulfilled and giving you the peace of mind that your Amazon inventory is replenished on time.
What are the benefits of our Amazon fulfilment service?
No picking and packing is an undeniable benefit of outsourcing your fulfilment, but here are more great benefits of our Amazon fulfilment service for both FBA and FBM sellers:
Improved efficiency– Once you're connected to our fulfilment warehouse, your whole order process will be instantly automated for both vendor and seller orders, improving operational efficiency and customer satisfaction.
Order accuracy – Depending on whether you are FBA or FBM, your Amazon Seller or Amazon Vendor account will feed directly into our WMS which instructs our operatives on the warehouse floor. Every unit picked, every location visited and every product dispatched is scanned to ensure pinpoint accuracy.
Fulfil across multiple territories – Looking for a warehouse that will help you grow your Amazon presence across international territories? By connecting your Amazon account with our WMS, you can seamlessly fulfil vendor orders across territories. The Cloud WMS allows you to integrate multiple Amazon Marketplaces making multi-marketplace fulfilment a breeze.
Fulfilled by Amazon (FBA) or Fulfilled by Merchant (FBM) – The choice is yours, we fulfil and integrate with both Vendor and Seller accounts. This allows you the freedom to pick the fulfilment method that works best for your business. By choosing FBM we will do everything Amazon was previously doing for you, pick, pack and despatch and you can also use your own bespoke packaging to keep your branding on point. Both you and your customers can track the whole process in real-time online for added reassurance. If you choose FBA we will ensure that your bulk restock orders go out on time to Amazon.
Multi-platform integration – Do you use more than one channel to sell your products? No problem, we have purpose-built platform integrations for all the most common shopping carts and marketplaces, so we're ideally placed to support your multi-channel sales. You can even have more than one Amazon channel connected to your account – the sky's the limit!
How to get started
Setting up the Amazon integration with Cloud Fulfilment is easy with the help of our integration team. If you would like to integrate your Amazon account with our Warehouse Management System our team will help you get this setup, tested and ready to go! If you would like more information about how it works, please get in touch, we'd be happy to help.