If you run an online fashion shop, you're probably trying to work out how much you should charge for delivery.
Offering free delivery is great for customers and therefore for conversion rates, but it decreases your margins. However, charging too much will turn away customers with items in their bags.
To achieve the perfect balance, there's nothing like a good degree of competitor research. And the good news is, you don't need to go website-hoping and spreadsheet-filling. We have done the hard work for you.
We have analysed the top 35 British retailers across all categories (excluding luxury) and collated the data for domestic delivery, free-delivery benchmarks and even features like annual delivery pass (whereby customers pay a flat fee for free delivery)
Achieving a balance between profitability and new customer acquisition via domestic delivery costs
Most fashion sites are currently charging between £3 and £4 for domestic delivery, with only a minority offering free delivery, or amounts higher than this. Therefore, delivery costs of around £3.95 are likely to offer the best balance.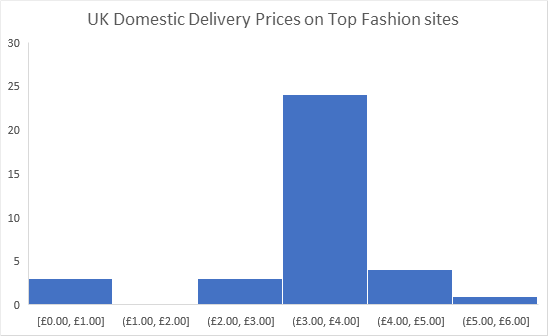 Having said that, you can offer lower delivery costs below this threshold to gain competitive advantage, especially if you are new to the market and want to make the most of all the traffic you get.
Additionally, you can play with the idea of seasonal free delivery moments (eg, weekends, bank holidays) where you can use email to encourage existing customers to buy.
The average order value of your basket also plays a role.
Brands offering fast fashion or discounted fashion tend to offer low delivery costs (as they target price-conscious customers) but still allow enough to protect their margins.
On the other hand, brands with a higher average order value (affordable luxury such as North Face or Superdry) offer free delivery since margins are large enough to build delivery costs into the price. Granted, customers really like free delivery (even when they pay it in a higher headline cost).
Now, before you settle on a delivery cost, consider the interplay between free-delivery benchmarks and annual pass too!
Using free-delivery benchmarks to increase average basket size and protect margins
"Free delivery when you spend X" aka free-delivery benchmarks, are very popular in the fashion e-commerce sector.
This way, fashion sites can protect their margins on purchases of low value, whilst incentivising larger baskets. It's very common for customers to throw a couple of items in their basket to qualify for free delivery, which then enables the retailer to generate enough profit to pay for the delivery, all whilst offering customers a good experience.
This is predicated on a psychological quirk. As humans, we're motivated to achieve value in our shopping and "delivery" seems to offer us no value because we're used to buying in shops where you accrue no extra expenses. Imagine going to a shop and having to pay a fee for "sales assistant" or "shop rental". Exactly.
If your range is big enough to allow up-selling, and if you're already retailing low-value items that can be thrown in the basket for this purpose, this could be a great additional tactic to add to a low delivery cost.
In our analysis, over 62% of fashion brands are offering this feature and 8% are already offering free delivery on all orders, with a further 5% offering an annual pass instead or as well (e.g Missguided and Boohoo).
Therefore, only a quarter of brands don't offer this service at all.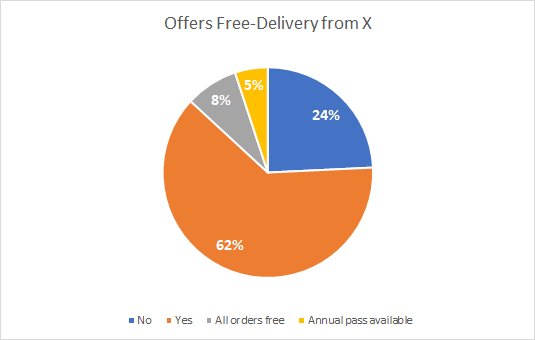 The next question is where to set the bar.
There is huge variability in these thresholds, which tend to be related to their margins and operational costs, as well as modelling that determines the ideal figures.
An ideal threshold is one that protects margins whilst stretching your customers into buying slightly above the average.
Roughly speaking, £45-75 is quite common for brands retailing at the most premium segments, and £25-35 is common for fast fashion and discounted brands.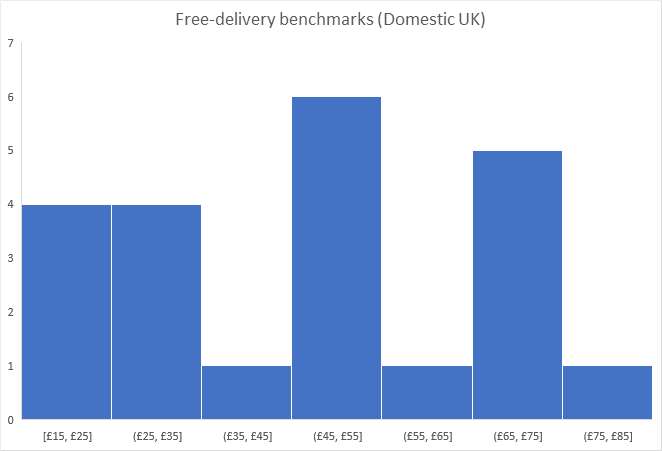 Annual pass as a way to incentivise loyal customers and build a dedicated fan base
A novel feature that is becoming increasingly commonplace is the "annual pass", a one-off fee that offers unlimited standard free delivery.
This tactic is very common for fast fashion brands such as Missguided, Boohoo, ASOS, as well as other sites with younger demographics such as Footasylum. From our analysis, 25% of retailers are now offering this, with all retailers charging between £7.99 and £9.99 (and one outlier at £20)
This can be a fantastic way to incentivise loyalty from your best customers. Obviously, only loyal customers would even consider paying a one-off fee for annual-long deliveries, however fast fashion is an uber-competitive segment of the market where loyal customers are "customers that buy lots of fashion that happen to buy from you too".
This creates a level of stickiness with your website and increases the chance of top of mind awareness (TOMA). When a customer needs a new jumper, they will think first of the brand where they always qualify for free delivery. In fact, another human quirk is that we want to get "our money's worth" which means anyone buying an annual pass is likely to make quite a few purchases.
Now, this tactic only works for more established brands with the buying power to get low e-commerce delivery rates, as well as ranges that are big enough to shop 4-8 times a year.
Experiment, experiment
If you are only just starting, using these benchmarks can ensure that you achieve parity with top fashion brands you might be ultimately competing with.
If you are retailing on the value or affordable segments, delivery costs of £3.95 or even £2.95 combined with free delivery above £30-40 is a sensible option. Lowering these will help you achieve better conversion rates and grow your customer base more quickly, albeit at a lower profit margin. Over time, you can consider an annual pass to build a loyal customer base.
If you are retailing premium products (e.g. underwear from £25), it makes more sense to build the delivery costs on the headline price to your customers. This offers a very nice experience for the users who don't need to worry about hitting a threshold to save on delivery, or in adding delivery costs to the total as they browse the site. Because in this segment you enjoy higher margins and less price-consciousness, this means you can dedicate more of your shopping experience to offer a full brand experience through imagery, casting and copy.
Ultimately, you can set up experiments to understand the impact of delivery costs on conversion. A weekend-long promotion of free delivery can help you understand the uplift in conversion rates and therefore model the incremental profit. Equally, you can compare conversion rates between offering £3.99 and £1.99 and see the impact on profit.
If you own an online fashion store and you'd like to talk to someone about our fashion fulfilment and shipping services, please get in touch. We'd love to hear about your business and discuss how we can help you find the perfect balance for your delivery costs.