For e-commerce businesses, positive reviews from genuine customers are a great trust signal to potential prospects and can play an important role in improving conversion rates and boosting sales. Similarly, bad reviews can damage your conversion rate and ultimately your reputation.
There are many platforms you can use to gather customer reviews, including TrustPilot, Capterra, Yelp and Google My Business (GMB). However, it's important to know that not all review sites verify their reviews. This means that anyone can write a review, regardless of whether they've used your services or not.
Google reviews fall into this category, which is why they are the main focus of this blog. Once you receive a bad review on your GMB profile, even if it's clearly not genuine, it's incredibly difficult (near impossible) to get it removed.
This blog talks about our experience with Google reviews, why we decided to stop using them and how we removed our Google My Business listing.
Should you have a Google My Business listing?
This very much depends on the nature of your business. If you're a local business with physical premises that customers visit, then Google My Business has many benefits. It will improve your local search rankings, help customers find you through Google Maps and give you a platform to publish core information about your business, including opening hours, services, prices and promotions.
However, if like us, your business is not open to the general public, or it's purely based online, then you could argue you don't need a Google My Business profile at all.
Google reviews
When you create a Google My Business listing, you'll be able to invite customers to write reviews against your profile, however, this is also open to anyone who wants to review your business and you can't turn the review function off.
As we mentioned before, Google My Business does not verify reviews, so while for the most part you'll gather reviews from genuine customers, there is a chance that you can also pick up reviews that aren't genuine, which is where we hit a problem.
In our case, our address was used by a scam business claiming to sell water bottles and we attracted a number of negative reviews from outraged people, who had parted with their money and never received anything. Despite replying to these reviews, and highlighting that Cloud Fulfilment is not a retailer, only one person retracted their review, the rest were left on our Google profile as a damaging 1 star.
Despite reporting this problem to Google, the reviews were not removed. Genuine customers even leapt to our defence and posted positive reviews, but the damage was done and our average star rating was dragged below 3.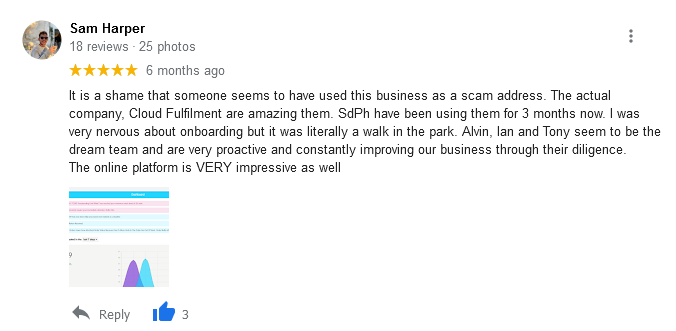 What can you do about bad Google reviews?
If you receive a bad review from a genuine customer who has had a poor experience with your business, best practice will tell you to reply to the review, then attempt to make contact with them directly to resolve the matter. Even if there's nothing you can do to put it right, it looks far better to potential customers if you respond to all reviews, even the bad ones.
If however you receive fake reviews that are not related to your business (as we did) there are a number of steps you can take. This is the process we followed and what eventually led us to remove our Google My Business listing.
Reporting fake reviews to Google
This is the first step to take if you are receiving negative reviews unrelated to your business. There's an option next to each review to flag it as inappropriate. You're then presented with a list of reasons as to why this review might be considered for removal.
As the reviews we were receiving weren't about Cloud Fulfilment, we went with the top option, "Off topic". We received a standardised email from Google My Business explaining that the request will be reviewed within three working days, after which we will receive a response with their decision. Three days went by, which then turned into a week. After two weeks the reviews were still there, and our reputation was continuing to take the hit, so we had to try a different route.
Contacting Google directly
Google does provide a contact number, but if your business is not US-based, this can be tricky considering different time zones and costs. A few articles online suggest that you can message Google support directly on social media for a more immediate response, so we did this via Twitter and Facebook. Almost instantly we received an automated message sending us a link to an online contact form. Once we filled it out, we received an automated email asking us to once again describe the issue. We did this and another few weeks passed with no response.
Removing our Google My Business listing
Having exhausted all other avenues, we began to look at ways to remove our GMB listing altogether. As previously mentioned, Cloud Fulfilment is not open to the public, we also operate on a national and global level, so the need to appear in local search results is less important for our business than a restaurant or a shop for example.
But removing your GMB listing isn't straightforward. In fact, there are a number of unsatisfactory options, including marking your business as permanently closed – not ideal if that's not the case.
What did we do?
Finally, we took the decision to delete our location from Google Maps altogether. You can do this through the 'Businesses' tab on your GMB profile. Select your address and pick "Remove Business" from the dropdown menu. Voila! Only three days later, our location was wiped from Google Maps, along with the fake reviews that were damaging our reputation.
Where can you see reviews for Cloud Fulfilment?
So, that's why you won't find Google reviews for Cloud Fulfilment. However, we have started collecting Cloud Fulfilment reviews on WebRetailer, a dedicated resource for businesses that sell online. It's early days, but we will be building our profile here over the next few months, so please feel free to come back and visit.
In the meantime, if you're thinking of outsourcing your e-commerce fulfilment and would like to have a chat with a real person who will genuinely get excited about your order fulfilment, then please get in touch, we'd love to hear about your business and discuss how we can help.