So you've heard people talking about e-fulfilment and maybe even outsourcing to an e-fulfilment warehouse, but what is e-fulfilment?
What is e-fulfilment?
Quite simply, e-fulfilment is the process a business goes through to sell stock on the internet. You may also hear it referred to as e-commerce fulfilment.
Essentially, when a customer places an order through a website and the order is processed, the stock is then picked, packed and dispatched. Some e-commerce businesses may manage this in-house, while others will outsource to an e-fulfilment warehouse, where the stock is held and orders are fulfilled on their behalf.
Why e-fulfilment matters
Over the past few years, online shopping has become the norm for millions of consumers, with e-commerce sales accounting for over a quarter of all retail sales in the UK alone. But the demands of e-commerce businesses are very different from those of more traditional retail companies.
Predictably, as the e-commerce market grows, so do customer expectations. Retailers aren't solely judged on the quality of their product anymore. Consumers expect fast delivery, real-time tracking updates and a slick and uncomplicated returns process. For most e-shops, customer retention is dependent on their ability to provide a smooth online shopping experience from start to finish.
For any e-commerce business or seller, it's crucial that their e-fulfilment is done right. This is why it's so important to partner with a specialised e-fulfilment centre. The best third-party e-fulfilment houses will function as an extension of your business. They will seamlessly run all aspects of your fulfilment operation, allowing you to scale resources up and down according to customer demand. Most of the processes will be automated using sophisticated e-fulfilment software, which connects directly to your e-commerce platform to fulfil orders and process returns as fast as possible. This can be especially beneficial if you're a growing business looking to expand to new markets while keeping your overheads low.
With Cloud Fulfilment, the e-fulfilment journey incorporates the following steps: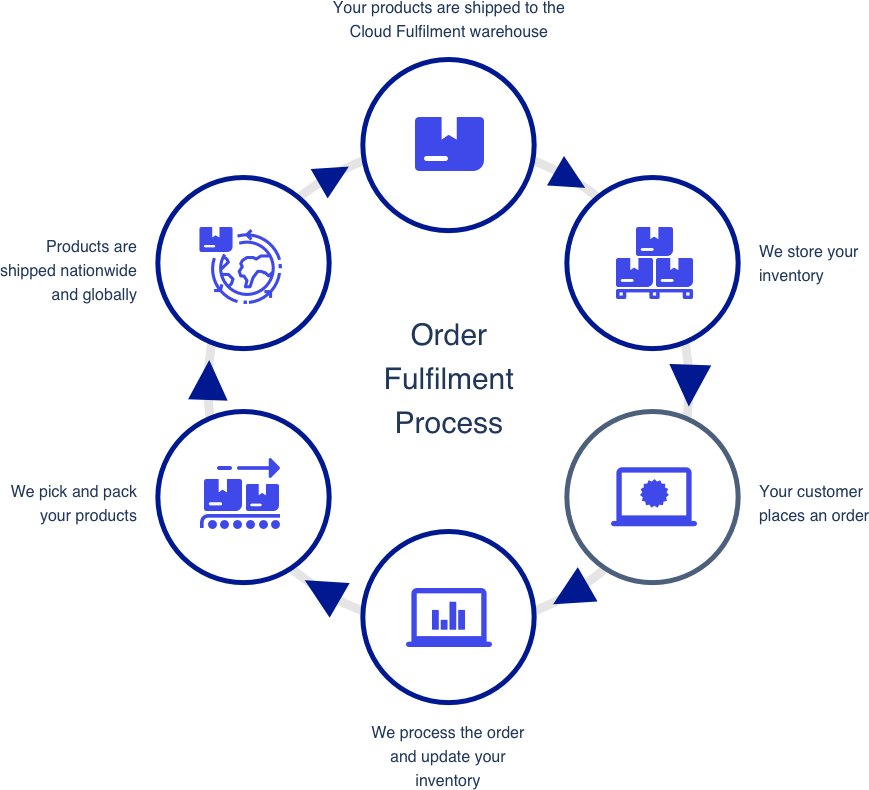 E-fulfilment services
As a third-party logistics provider, Cloud Fulfilment offers a wide range of end-to-end e-fulfilment services:
Goods in – integrating our warehouse management system with your e-commerce platform to allow you to book goods into our warehouse and manage your inventory
Warehousing – specialised e-fulfilment warehouse for fast-moving consumer goods, designed to easily scale resources up and down to manage seasonal peaks
Pick and pack – professional and highly accurate picking and packing services for maximum efficiency
Returns management – seamless online returns and stock inventory management with full visibility every step of the journey
Branding and stock preparation – customised packaging and stock preparation, including subscription box fulfilment
Cross-docking – fast turnaround of pre-packed items, ensuring speedy dispatch of products at a reduced cost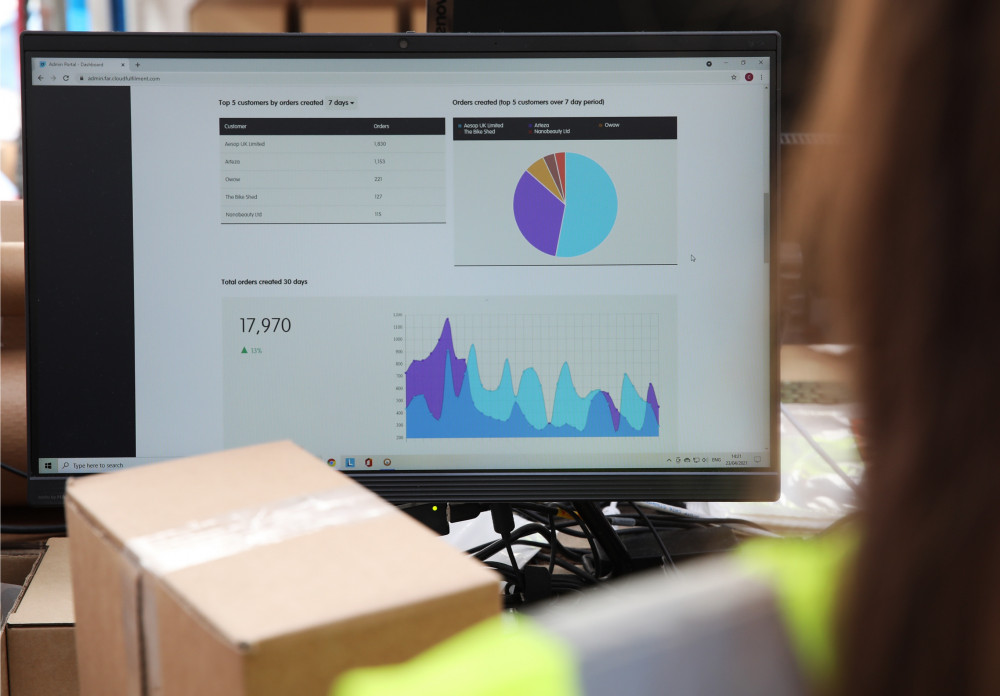 Are you ready to outsource?
As a growing business, outsourcing to an e-fulfilment warehouse for the first time is a big decision. We understand this and we're happy to discuss your unique requirements and talk you through your options.
As a rule of thumb, our customers usually match the following profile:
500+ orders a month
Small to medium-sized products
A small and profitable range (a small number of SKUs)
How much will it cost to outsource your e-fulfilment?
Outsourcing your fulfilment operation to a 3PL provider isn't as costly as you may think. As your business expands and demand for your product grows, order fulfilment inevitably ends up taking up more and more of your time. The more time you spend on in-house fulfilment, the less time you'll have to develop new products, conduct market research, or further design your business strategy. Outsourcing your e-fulfilment also means that you will reduce your staffing costs and benefit from preferential shipping rates, which will save you money in the long run.
Of course, every company is different and has unique needs when it comes to their order fulfilment. The amount of monthly orders and units per order, storage space required and the delivery options you offer are all factors that affect the cost of your e-fulfilment.
If you'd like to get an idea of how much it will cost, why not try getting a free quote using our e-fulfilment pricing calculator? It's simple and straightforward to use, there are no hidden fees, and it doesn't require any sign-up or registration.