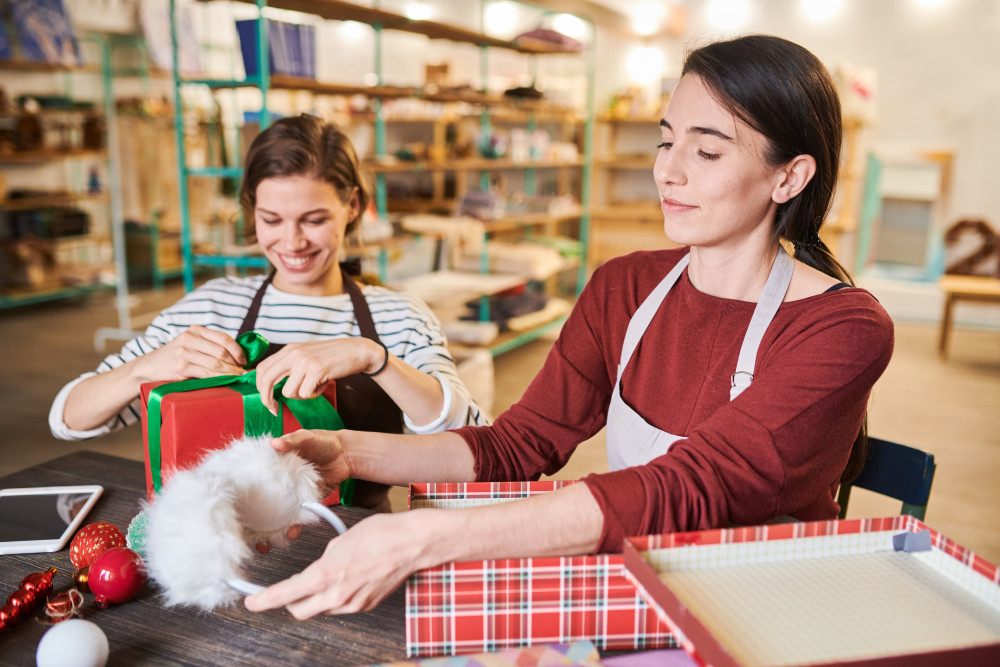 The lead up to Christmas has always been the busiest time of the year for online sellers. You find yourself frantically rushing around trying to pick festive packaging, predict customer demand, figure out what deals to offer and how early, and deal with shifting levels of staff demand. Sound familiar? You're not alone.
The pressure to make the most out of the Christmas sales is even greater on e-commerce businesses than it is on consumers, and the competition only gets fiercer every year. Over the past couple of years, hundreds of e-commerce businesses across the UK reported that they make most of their revenue in Q4 thanks to Black Friday and Cyber Monday. In fact, during the golden quarter of 2020, an unprecedented 48% of all consumer spending in the UK happened online, according to Barclays data.
This year, a combination of the effects of last year's lockdown, HGV driver shortages and Brexit have pushed many online sellers to start planning their Christmas peak strategy earlier than ever before – some as early as August! While you certainly don't need to be prepping for Christmas in the summer holidays (noone likes a show-off), you don't want to miss the last boat either. Your Christmas sales peak plan doesn't have to be long and complicated – it needs to be concise, realistic and most importantly, it needs to work for your business. Luckily, we've put together a list of six simple tips for nailing the Christmas sales peak as a growing e-commerce brand in 2021.
Outsource your shipping and fulfilment
This time last year, did you find yourself buried in Christmas packaging, fulfilling orders from home night and day and barely getting any sleep? Has this been a regular occurrence over the past year? If the answer is yes, then this is a clear sign that you've outgrown your current fulfilment operation and you're ready for the next step: outsourcing. While trusting another company with your products and customer satisfaction may sound daunting at first, you will quickly notice some of the benefits. When you partner with a 3PL provider such as Cloud Fulfilment, we'll take over your everyday stock management and order fulfilment tasks, leaving you lots of free time to focus on perfecting your marketing strategy, developing new products, bundles or deals, or anything else you couldn't find time for before. Our proprietary Warehouse Management System (WMS) connects directly to your online store, enabling us to receive orders in real time. Our highly-skilled warehouse staff will then ensure they're picked with the utmost accuracy and dispatched using the cheapest e-commerce shipping rates and fastest transit times.
Accurate inventory stock-take
Doing your inventory stock take is not the most exciting of tasks, but it's absolutely crucial for the smooth running of your business. If not done daily and attentively, you can find yourself over-selling products you don't have, or spending unnecessarily on items you already have, which inevitably results in loss of revenue and unhappy customers. Add a holiday sales peak into the mix, and fulfilling your own orders can quickly turn into a nightmare before Christmas. Cloud's fully-automated goods-in process puts you in control of your own stock levels without the laborious task of counting it all yourself. Once your online store is integrated with our WMS, you'll be able to bulk-upload your product range into our system. This will enable you to quickly and effortlessly book goods into our warehouse, search and select what products will be delivered and in what quantities, while automatically providing our warehouse operatives with a detailed inventory to cross-check when the goods arrive. When your products arrive, we will compare the advance shipping notice with the stock that arrives. If there are any discrepancies, we will notify you via a non-conformance report (NCR) for you to action. The inventory of products will then be amended on request. That way you'll be able to monitor the current inventory levels of your stock through your dashboard from the comfort of your own home!



Personalise your festive packaging
If you want to really stand out from the competition this Christmas, offering special festive packaging is the way to go. Not only will it create a sense of a personal touch and joviality, but it's also a fantastic advertising opportunity for your online store. The packaging you choose can say a lot about your brand, so now is the time to really make it sparkle and shine! Cloud Fulfilment will provide you with all the creative freedom you need when it comes to your packaging. Whether you choose to adopt Christmas gift boxes, printed paper, ribbons, cards and even perfumed pouches for a limited time (or permanently), we're here to help you realise your vision. Another vastly popular e-commerce trend many businesses adopt is subscription boxes. There's a reason why the UK market has been dubbed the "subscription society" – with the average Brit spending £552 on subscriptions every year. With Cloud's specialised repackaging and subscription box fulfilment services, you'll never need to worry again whether all the products you advertised have been included in the box, or whether it's been sent to the correct customer. We know that accuracy and attention to detail are central to maintaining customer loyalty, which is why we'll follow your exact instructions and provide you with full visibility of the process.



Fast delivery and regular progress updates
Shipping goods in the run-up to Christmas, or any holiday season for that matter, can be complicated and nerve-racking. Finding the right balance between cost-effectiveness and fast delivery times is a fine process that takes a lot of time and research. There's nothing worse than promising your customer delivery by a certain date, only for their order to be delayed, lost or damaged in transit. At Cloud, we understand that customers and businesses alike have different requirements and expectations when it comes to home deliveries. This is why we don't believe in offering a 'one size fits all' solution when it comes to e-commerce shipping. As a sister company to a global parcel comparison site, we're able to offer our partners a wide range of tailored e-commerce shipping solutions in accordance with their individual business needs. Partnering with Cloud means that you'll be able to track every step of the delivery process of your parcel – from the point of collection from our warehouse, until it arrives at your customer's doorstep. You'll also benefit from an extensive choice between express and low-cost parcel delivery options for both domestic and international shipments, so you can reach your customers no matter where they are in the world.
Simple and fast returns policy
Selling out your stock on Black Friday and Cyber Monday can feel great! But unfortunately, online sales and returns go hand in hand and are unavoidable. On average, e-commerce returns account for 25% of all purchases, compared to the 8% retailers with physical shops face. This is down to a variety of factors. According to a 2020 study by Barclaycard, an overwhelming 30% of online shoppers deliberately over-purchase and return unwanted items, while 19% admitted to ordering multiple versions of the same item so they could make their mind up when they're delivered. This can be a major headache if you're an independent online seller trying to predict your margins for Q4. On the flip side, offering a seamless and effortless returns experience is a major factor when it comes to reducing shopping cart abandonment and building customer loyalty. Customers are more likely to return to you if you offer them fast, hassle-free returns. This is why we've spent over 10 years helping businesses streamline their returns processes. When you partner with Cloud, you will save time, money and effort processing return requests, while ensuring that your customers receive a consistently positive service every time. When a customer places a return request through your online store, we'll process the return, and if required, issue a replacement within one working day, while you receive regular updates on its progress. This way you'll retain full visibility of the process and will be able to update your customers as and when required.
Scale your fulfilment operation
One of the major problems that many online business owners face around peak sales periods, is dealing with a sudden surge in orders. This may occur as a result of a successful social media campaign, selling a high-demand product, or offering a great discount. A spike in orders inevitably means an increased (and often sudden) demand for holiday staff. The last minute search for staff can be expensive, stressful and unfruitful. The opposite is also true. The post-Christmas lull for a traditional retailer with their own warehouse is likely to mean that they will require fewer staff and less capacity. But for an independent e-commerce business, hiring temporary staff and fluctuating your storage capacity can be expensive and inflexible. At Cloud Fulfilment, we have a strong dislike for inefficiency and excessive costs. We like to help businesses become more streamlined, efficient and cost-effective. Our process is simple: as you hold more stock you pay for the storage used. As you sell your stock you pay less! And if you haven't correctly anticipated the level of demand for your products, or you need to directly ship in stock from your manufacturer, we're here to help with that too.
Our fulfilment experts are always here to help you find the best solutions for you and your business, even if your requirements change over time. Give us a call today to discuss your options!